name of zanpakuto: Emperatriz del cuervo
Ressurecion ability: She loses her sword, and her hands and feet become jet black talons. These talons are sharper, and harder than her sword, able to deflect sword slashes from captain levels, and pierce even the toughest of espada level hierro. She can also increase or decrease the size of these talons at will. She also grows a pair of ink black raven wings out of her back. These wings are enveloped in the overflow of her spiritual power. These wings can block espada/captain level techniques, such as balas, ceros, and bakudo. Reina can launch feathers from her wings at bala speed in quick succession, and her wings create more after they are fired. The feathers are sharp as her talons, and can pierce even espada level heirro. The feathers are also covered in her peste.  
Her Hierro increases to the point that she can efforlessly deflect sword slashes of captain with her skin or wings alone.
In this state, Reina's speed out matches any other arrancar in history.
Constant Pesquisa: In this state Reina's Pesquisa is always active now and she can sense the spiritual power of any creature, no matter how small it is, in a Hueco Mundo size radius and zero in on a specific one and track where it is. In battle her Pesquisa zeros in on her opponents automatically and she can sense the amount power her foes have left and how much energy they put in attacks. She can also track the movements of her enemies in battle while fighting, though it's harder the more enemies she faces.
Black peste: Her pesta now takes the form of an black ink like liquid that she can release from her talons, wings, mouth, and even sweat glands. The peste no longer needs to enter the blood stream, simply touching it will allow it infect the target. The peste also becomes extremely corrosive to the point that it will melt bone. Reina can mix her spiritual power into the peste to intensify it and speed up the process of infecting. The peste also emits fumes, though not nearly as deadly as the actual peste they can still slow down the motor function of a victim if breathed in. Her peste also devours the energy and power of the victim at an evern faster rate then before, this speed will increase if more peste enters the targets body. Reina is immune to the effect of her peste.
Rebano: This technique allows Reina to create ravens made out of black energy from her wings or mouth. These ravens have talons and beaks as strong as Reina's own. The blood of the ravens is a mix of Reina's spiritual power and peste. Reina can have the ravens burst at will, expelling their peste blood in all directions. Reina's can create any number of ravens, but the more she does the harder it is for her to concentrate.
Bankai/ Ressurecion Segunda Etapa ability: Awakening this form causes Reina to shed all of her feathers, her wings become just bone. Her body becomes completely shrouded in her now gas like peste, making it hard to see what other transformations have occurred. The immense amount of power she realeases is so volgar, and sickening that low level arrancar and shinigami will simply vomit, pass out, or even die. Even captain level opponents will feel at least some sickness in their stomachs- will fill out the rest later
Shikai release: Plague and corrode  
Bankai call: nevermore
Detailed description or picture of Bankai and Shikai:
Ressurecion: Her hallow remnants take the form of a crown in her first release. In second release is is unclear what changes have been made to most of her body
1st release: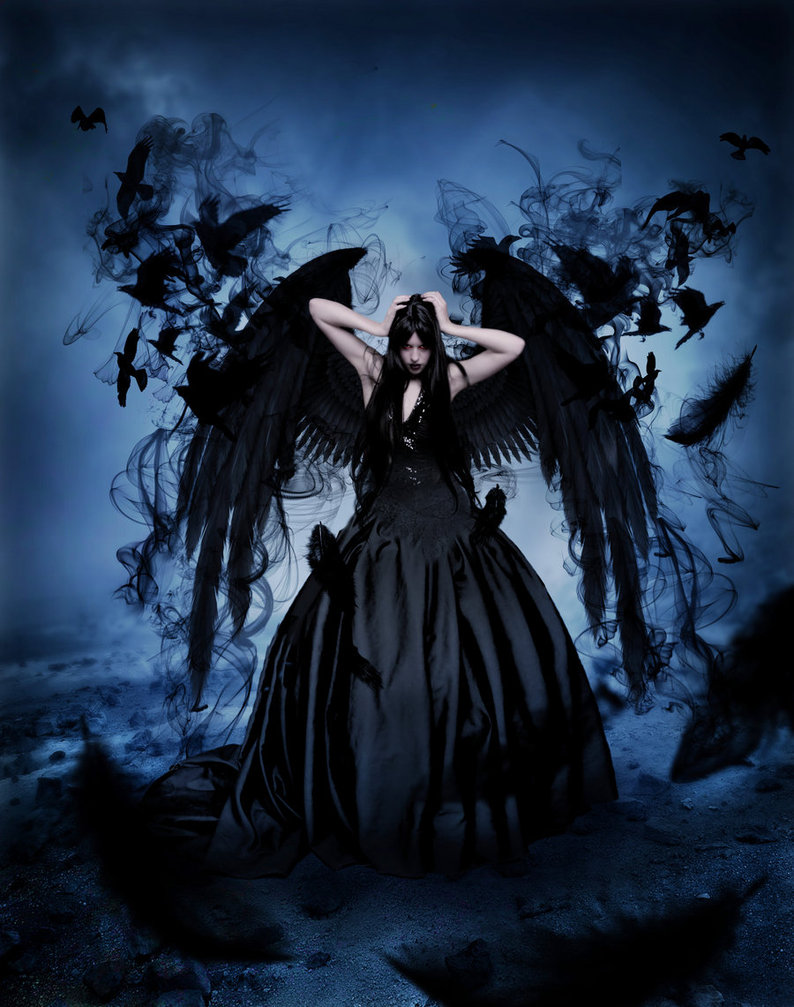 Small difference from pick is she wears a white crown whitch is the remnants of her hollow mask, her eyes all all black, her dress is much short coming to her the top of her knee.
2nd release